Lucy Buttenshaw - News Update
To view more all of this page scroll in this direction >>
News Update >> News Update >> News Update >> News Update >> News Update >>
News Update >> News Update >> News Update >> News Update >> News Update >>
News Update >> News Update >> News Update >> News Update >> News Update >>
News Update >> News Update >> News Update >> News Update >> News Update >>
News Update >> News Update >> News Update >> News Update >> News Update >>
News Update >> News Update >> News Update >> News Update >> News Update >>
News Update >> News Update >> News Update >> News Update >> News Update >>
Next in line Films
Have recently produced an 'Artist Profile' short film on Lucy. The film forms part of a continuing series based on artists living and working in regional areas.
'A visit to Mexico' has sparked a series of paintings based on the day of the dead festival, and more, see Gallery - Paintings
Intensive studio practice for High School Students
One thing that Lucy particularly enjoys is teaching on The HSC Intensive Studio Practice Course - Painting, at the National Art School, Sydney. Lucy is delighted to have been invited to teach each year on this course since 2002. The course offers high school students from all over NSW a chance to enhance skills and experience life as a student at the National Art School.
The NAS HSC Intensive Studio Practice course is endorsed by the NSW Board of Studies and has been offered by NAS to students in all government and non-government high schools since 2000. The course develops HSC Visual Arts students technically, conceptually and intellectually in a post-school setting. The 2 week long course culminates in October with an outstanding exhibition of student work at the NAS.
.ability, www.nas.edu.au/shortcourses
Wagga Wagga - Featured Artist
Lucy Buttenshaw's The Parade was the featured Painting of the Month at Eastern Riverina Arts. 98 Fitzmaurice Street, Wagga Wagga.NSW
Eastern Riverina Arts. are the lead body for arts and cultural development across the Eastern Riverina.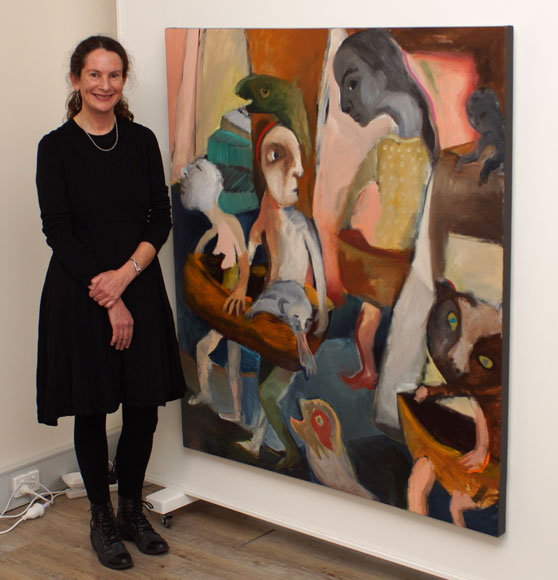 Drysdale Bronze in Lucy's home town of West Wyalong
A delighted Lucy, pictured here alongside Russell Drysdale's painting West Wyalong. The iconic work was kindly lent to West Wyalong by the Grundy family for the unveiling of the bronze commemoration to the artist.
Sculptors Gillie and Marc (lower right) were commissioned to produce a large studio easel and a oversize bronze relief of the painting. Attended by The Hon. George Souris and Drysdale's daughter Lynne Clarke, the event saw the original sketch (from Murray Art Museum Albury) and the painting alongside each other. For more on the Drysdale West Wyalong connection click here
Murray Art Museum Albury click here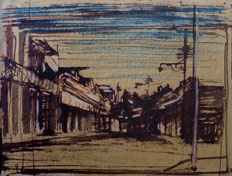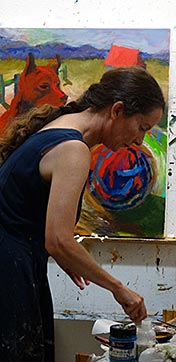 View paintings in West Wyalong
A Selection of Lucy Buttenshaw's artwork can be viewed at Splatter Gallery, 192 Main St, West Wyalong, NSW
Splatter Gallery is open from 10am to 5pm (closed on Sundays and Mondays)
t:02 6972 3780
---
Paintings may also be viewed at Lucy Buttenshaw's studio in West Wyalong, Please telephone in advance to make an appontment: 02 6972 1858 or 04 0817 9103