The Paintings of Lucy Buttenshaw - A Repesentative Selection
A Repesentative Selection >>>>>>>>>> A Repesentative Selection >>>>>>>>>> A Repesentative Selection >>>>>>>>>> A Repesentative Selection >>>>>>>>>> A Repesentative Selection >>>>>>>>>> A Repesentative Selection >>>>>>>>>> A Repesentative Selection >>>>>>>>>> A Repesentative Selection >>>>>>>>>> A Repesentative Selection >>>>>>>>>> A Repesentative Selection >>>>>>>>>> A Repesentative Selection >>>>>>>>>> A Repesentative Selection >>>>>>>>>> A Repesentative Selection >>>>>>>>>>

Art Alfresco's 2011 theme of Bacchus inspired me in my piece Bacchante and the Goat, (right) to consider a female bacchante who assumes the role of Baccus himself. Playfully in the painting she offers the goat some wine while holding precious grapes in her other hand. Originally Bacchus was worshiped in the form of a goat or bull. Here he is somewhat at her mercy, waiting, hoping for the wine to flow.
Orange Food Week's 'Art Alfresco 2011' is a biannual group exhibition of paintings by invited artists. The paintings are displayed in the open air, on the South wall of Orange Regional Gallery.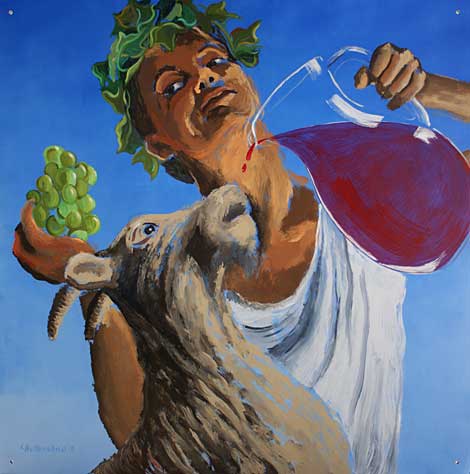 Catching his soul, was inspired by Stravinsky's 'The Soldiers Tale', In this interpretation, the Devil is using his butterfly net to capture the soldier's soul (represented by the violin).
This painting is part of a suite of works entitled: The Soldiers Tale.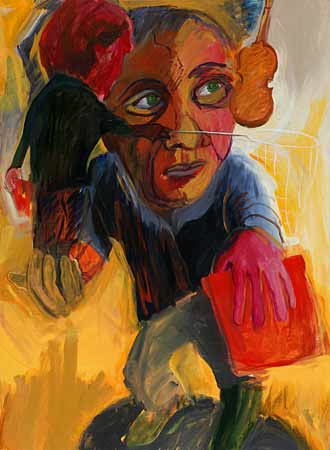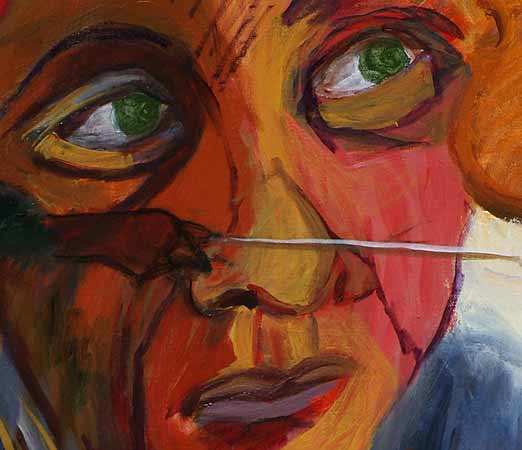 ...This farm scene does not represent a specific view, instead it aims to give the impression of Lucy's surrounding landscape scattered with icons of farm life. There is a red tractor, a dam, a country town, a farm house, a fence, and livestock, with the lamb holding pride of place. ...
Farm, was selected as a finalist in the 2004 Country Energy (now Essential Energy) Art Prize 'Countryscapes'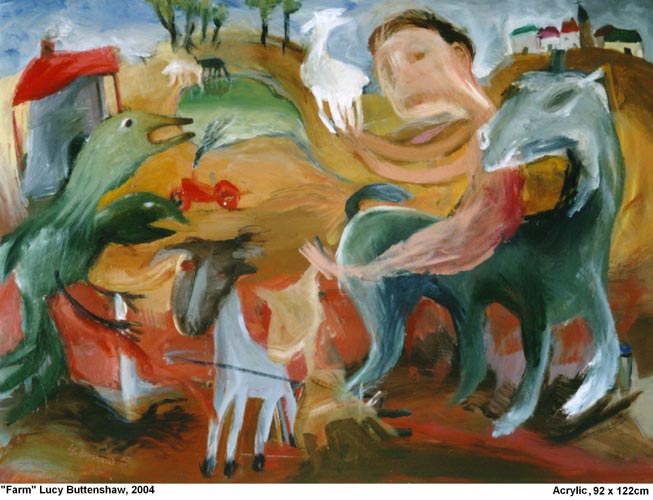 ....The dog waits for the dam to fill so he can go for his swims. The person drinks the water from the clouds the instant it begins to rain.....
Farm, 2004 Acrylic on canvas 92x122cm
Breaking of the drought, 2003 Acrylic on canvas 100x75cm Private Collection